Who Is Jiffy Lube®
Jiffy Lube Knoxville®  is a leading provider of automotive preventive maintenance with 8 East Tennessee service centers. Jiffy Lube® has a national footprint of more than 2,000 franchisee owned service centers across the country, Jiffy Lube offers a range of services from oil changes and tire rotations, to everything in between.
Jiffy Lube technicians are not just highly trained in preventive maintenance, they are also highly trained in customer service. So if you have any questions about vehicle maintenance or the services performed at any Jiffy Lube service center, your technician will help you find the resources and information you need, whether it's in-store, online or by accessing your vehicle manufacturer's recommendations. It's just another way Jiffy Lube strives each and every day to help you Leave Worry Behind®.

About Jiffy Lube Knoxville
Jiffy Lube Knoxville operates 8 convenient Jiffy Lube® Service Centers, serving Knox, Blount & Anderson Counties. Knoxville area Jiffy Lube® locations are owned and operated by Pinnacle Sales Company. Pinnacle Sales Company owners Pat Gleason, Joe Gleason and Chip Shipley are dedicated to quality automotive service and premier customer satisfaction. The mission of Jiffy Lube Knoxville is to always treat every customer and employee with fairness, dignity and respect.  CLICK HERE TO CONTACT US
Pinnacle Sales Company
P.O. Box 11253
Knoxville TN 37939
(865) 588-6937 | Email
Jiffy Lube Knoxville Career Opportunities
Please visit our Employment Page to see current local job opportunities and to apply online.
Dedication to Innovation
Jiffy Lube® pioneered the fast oil change industry more than 35 years ago. Today, more than 20 million customers every year rely on Jiffy Lube to keep their vehicles running the way your vehicle manufacturer intended. It's the mission of everyone at Jiffy Lube to go beyond oil changes alone, to help alleviate the anxiety that routine vehicle maintenance can bring. Jiffy Lube is committed to keeping your vehicle running right for the long haul, so you can Leave Worry Behind®.
Learn more about our history and mission
Highly Trained in More Ways Than One
Jiffy Lube® has some of the most highly trained employees in the business. Jiffy Lube University℠, a comprehensive training program that every technician must successfully complete, has been recognized for its robust curriculum and has achieved accreditation as an Automotive Service Excellence (ASE) training provider. So rest assured, Jiffy Lube technicians aren't just trained in oil change services — they are trained in just about every preventive maintenance service your vehicle may need.
Find out more about how Jiffy Lube employees are highly trained
Find Your Jiffy Lube®
Whether you're on your way to work or on a family vacation or near your home, Jiffy Lube® has you covered. Jiffy Lube has over 2,000 service centers coast-to-coast with a nationwide database that keeps your service records on file so you can get a quick, consistent and quality experience every time.
Browse Jiffy Lube Knoxville Locations  |  Browse All Locations
Learn More About Jiffy Lube®
Jiffy Lube® is not just your typical maintenance shop. Jiffy Lube technicians are highly trained in preventive maintenance and customer service as well. Jiffy Lube technicians wear rubber gloves and belts so your vehicle doesn't get unsightly smudges or scratches. Jiffy Lube service bays have see-through windows so you can see the work as it's being done on your vehicle. Every aspect of your visit is carefully designed to help you Leave Worry Behind®.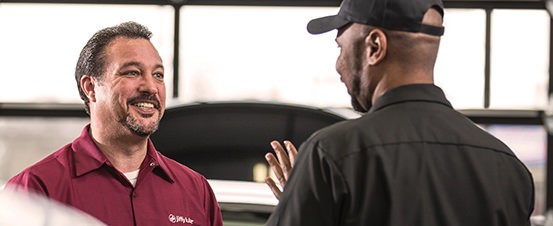 Vehicle Maintenance Services
Vehicle manufacturer recommendations are designed to get you what you need in multiple ways. And Jiffy Lube® provides online access to your service records, so you're always aware of your vehicle's history and when you're due for your next service.
Oil changes are vital to keep a vehicle running properly, but it takes each component of a vehicle running smoothly to help keep you on the road. Jiffy Lube service centers offer a full range of preventive maintenance services, in most instances using the same vehicle manufacturer recommendations as your dealer.
Confidence in Quality
The Nationwide Limited Warranty Program offers a written limited nationwide parts and labor warranty to customers at participating Jiffy Lube® service centers — letting you rest easy so that in the unlikely event something goes wrong, Jiffy Lube will help fix it and get you back on the road.
Learn more details about the Nationwide Limited Warranty
Business Support & Franchise Opportunities
Join a proven industry leader by becoming a Jiffy Lube® franchise owner.
As a Jiffy Lube Service Center Owner, you would be associated with a strong brand with over 35 years of success. With instant name recognition, the collective knowledge of hundreds of other owners, and the support of a national brand, you'll have the tools you need at your disposal — letting not just your customers Leave Worry Behind®, but you as well.
See if opening a Jiffy Lube franchise is right for you
Here For You
Have questions about your ride, or why certain services are necessary? If you don't have a chance to talk to a highly trained Jiffy Lube® technician in person, take in some knowledge from our resource center. Providing the knowledge you need to help understand your vehicle is another way Jiffy Lube helps give customers peace of mind.